I hope that you enjoy the photos of some of my creations. I have attempted to provide aesthetic details of my work to give you an idea of my workmanship and design decisions. Since the instruments are handbuilt, there is a much wider latitude for design elements than those shown here. It is very enjoyable to provide a unique design as well as ergonomic and aural features for an instrument that meets the player's wishes.
Spalted wood rosettes offer a way to provide a change from the traditional rosette found on most classical guitars. Each one is different due to the nature of the wood. Typically, I match several pieces together in a way that hides the joints from view, creating the effect of a unbroken circle wrapped around the soundhole.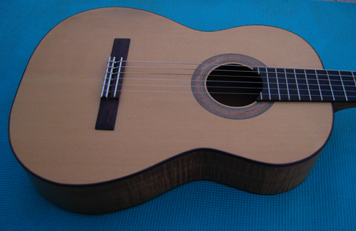 My main classical shape is based on a 1943 Hauser instrument. I find the Hauser shape very pleasing to the eye.